Welcome to

---
Uconn is facing tough test with 10 games in January
Other news: Uconn has recieved letters in intent from Denham Brown, a 6'5" 210 pound small forward from Toronto, and Rashad Anderson, a 6'5" shooting guard from Lakeland, FL.
This week's polls - [AP] [ESPN/USA Today]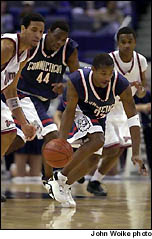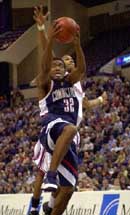 [Help support the fight against cancer by clicking on the banner above]
---
Welcome to my web site, dedicated to the University of Connecticut Men Huskies basketball -1999 National Champions. This past season was at times exciting and at times dissapointing, but it was memorable due to some upset wins over Notre Dame, Arizona, BC, and Providence and great play by freshman Caron Bulter. This season looks a little more promising, as the young Husky talent matures. Butler and Taliek Brown will likely be the leaders, though Johnnie Selvie hopes to take the leader role as a senior. Hopefully Robertson can live up to his incredible potential, and the incoming freshman make a big contribution. Newcomers this year include: G Ben Gordon, G Chad Wise, F Scott Hazelton (redshirted last year), F Mike Hayes, and F/C Emeka Okafor.
You can easily bookmark this page by holding down the Ctrl and D keys.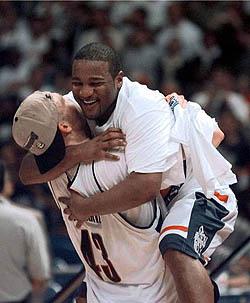 1999 National Champions
---
---
[Championship Game Page | Husky Headlines Page | Bringing the trophy home ]
[ 2001-2002 Roster | 2001-2002 Schedule | Husky Links]
[Women's BBall Schedule | Roster ]
Questions, comments, suggestions??
I would like to say thanks to the following: www.UConnHuskies.com, and ctnow.com because I have used lots of information gathered from their sites, and use their game reports linked above. Also thanks to everyone who has a link to my page and those who have signed my guestbook. I do read that part, believe it or not.
-Some images on the following pages do not work correctly right now, but I'm really not sure how to fix it. Sorry: Hartford Weather, CT Lottery, Daily Horoscope, Play Tic-Tac-Toe, and Love Compatability.
Husky Fans Since March '00.